MA26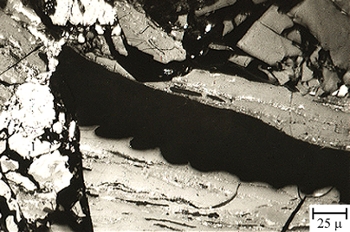 Frame ID:
MA26
Sample ID:
Hartshorne seam, high volatile A bituminous coal, Arkoma Basin, Oklahoma
Maceral Group:
Liptinite
Maceral Type:
Cutinite
Magnification:
As given
Illuminator:
Vertical
Objective:
50x oil
Polarizer:
In
Analyzer:
Out
Retarder Plate:
Out
Filter:
None
Important Features:
Typical occurrence of crassicutinite.
High Resolution Image (300 dpi)
Description: The large dark feature is crassicutinite, a maceral derived from thick-walled. Note that one side is flat while the other side is crenulated. Although the nature of the crenulations varies, the difference in the two surfaces is typical.